I've never been one for bucket-list items, but if I was to pick my bucket-list travel destination it would have been Marrakech in Morocco. Since the age of ten I have wanted to go to this mysterious and magical city. Blame it on the writer in me… those exotic riads, palm trees swaying in the tropical winds, the clay-colored walled medina, and the varicolored tiles everywhere. If that's not a backdrop for a literary novel, what is?
With the help of a couple friends who had recently come back from visits, I cobbled together an itinerary maybe not fit for a Moroccan princess, but definitely fit for an American-in-Morocco-for-the-first time.
If you want to plan your own trip, here's my advice here:
First, if you're not into cobbling it together yourself like I did, Cobblestone Private Travel is the go-to travel agency for bespoke trips to Morocco. While I only visited Marrakech and the Atlas Mountains, Cobblestone has the whole country covered. You want a camel trip in the Sahara? Or a surfing excursion in the Med Sea? Cobblestone is your girl.
If you choose to DIY it, I would suggest first heading to the Atlas Mountains after landing in Marrakech.
Only forty-five minutes from the airport, the Atlas Mountains feel worlds away from everything. Drive through the charming mountain villages and wind your way up to Sir Richard Branson's luxury hotel Kasbah Tamadot. (Rumor has it Sir Richard landed here on a run-of-the-mill hot-air-balloon-'round-the-world-trip and fell in love with the place… I got there much easier, through Google.) The Kasbah was named Conde Nast's #1 hotel in North Africa and the Middle East last year, so you're in good hands. Once at the Kasbah, definitely have the hotel arrange for a guided hike of the Atlas Mountains, which takes you through waterfalls and along river paths and then culminates in a lovely catered lunch at a Berber village. After lunch, visit the heated pool and the spa for a hammam (Warning: no body part is off-limits as my friends who scheduled a mom and daughter hammam learned the hard way) before heading to a dinner with the other guests.
Then, the next day, on to Marrakech.
As far as accommodations go, you can go two directions, though I'd recommend a little of both, which is what I did. There's the glamorous palace route: And for that there's La Mamounia and Royal Mansour, both stunning large hotels with vast gardens and large pools. They are across the street from each other, so if you stay at one I encourage you to visit the other for dinner or a drink. On the other extreme is the medina riad option. Riads are large traditional homes centered around an interior garden. I stayed at the totally perfect L'Hotel Marrakech (a Jasper Conran-designed five room villa), and other choices include Vanessa Branson's El Fenn (the cool, artsy choice) and La Sultana.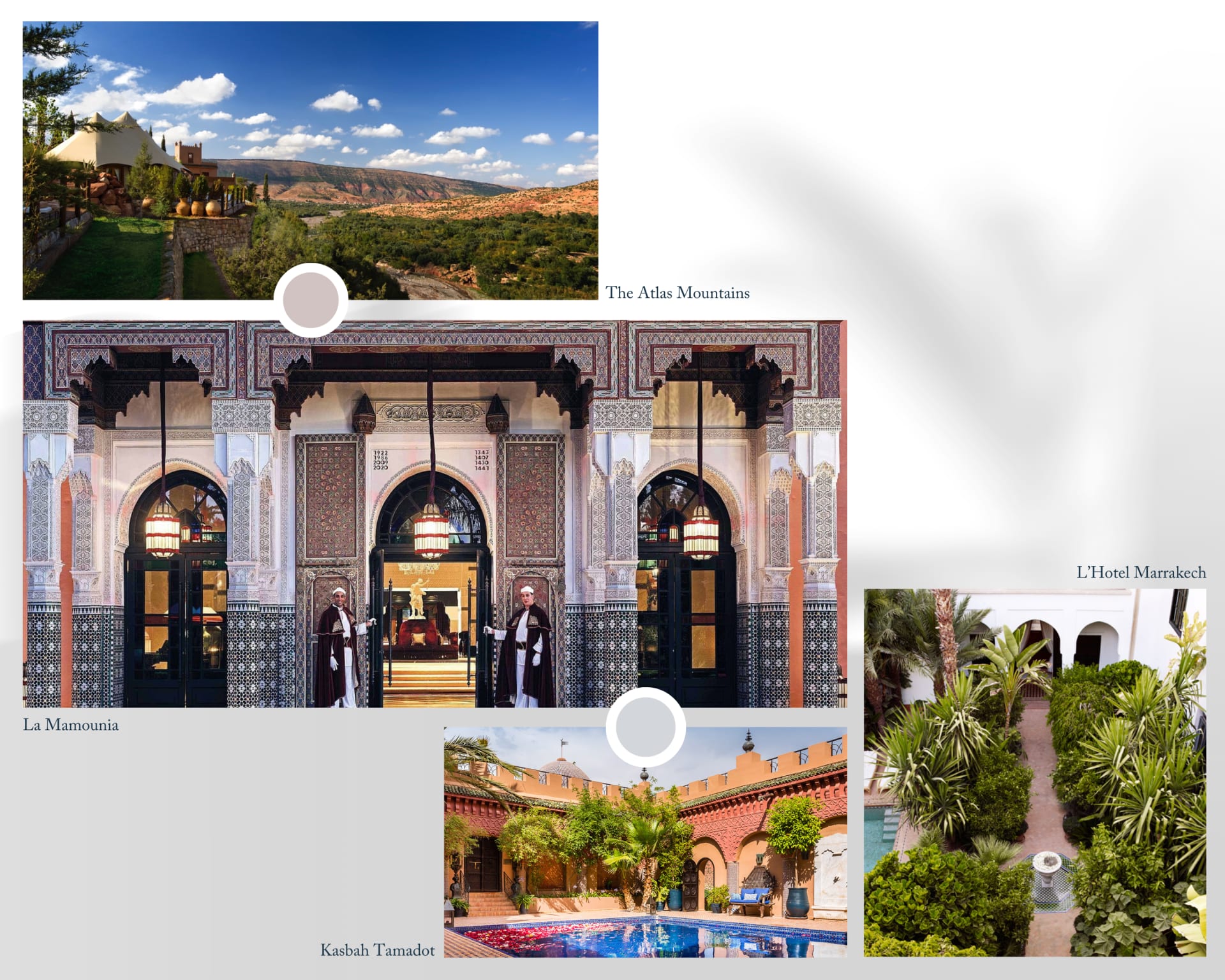 Your first afternoon in Marrakech, you'll probably tackle the medina souks, which everyone does. The souks are windy cobblestone alleys of markets where store owners sell everything from custom tiles to leather bags to argan oil. While the souks are definitely worth the visit in the daytime, the night market at Djemaa El Fna Square is a milieu out of fairy tales so you'll want to go back after dark. In addition to ordinary wares, snake charmers coax cobras with pungis and storytellers rival Stephen King (but beware, as many will make you come back the following night for the conclusion of their stories).
Look up to the skies from almost anywhere in the city and you won't miss Koutoubia, a 12th Century mosque with gardens around it.
The second morning is devoted to Yves Saint Laurent. If you're a fashionista, you know the Algerian-born designer spent a lot of time in Marrakech. His Majorelle Gardens and Museum are very popular and Villa Oasis (his private home) can only be arranged privately. If that is an important part of your trip, try to coordinate through a hotel ahead of time. In the afternoon, swing by El Fenn for a rooftop cocktail by the pool and/or spend time enjoying your riad and wander the medina (which never gets old).
The third day is a busy one. You will want to start the morning at two stunning palaces: the Bahia Palace and the El Badi Palace. After viewing the palaces, head to the nearby Mellah. This is the old Jewish area of Marrakech and features a beautifully restored synagogue and cemetery. After lunch, you can visit a real highlight for me: the recently restored Medersa of Ben Youssef, a theological college built in 1565 and one of the finest examples of Saadian era artistry in Morocco. While you're there, take a quick swing through the Marrakech Museum, which, when I visited, was home to an interesting contemporary art exhibit.
Two other important suggestions: I loved Grand Café de la Poste for diner. It was so good I went twice. It has the glamorous, French feel you expect from a visit to Marrakech (for you LA folks, it reminded me of the authentic version of ex-hotspot Le Colonial – am I dating myself here?). And local guides are relatively inexpensive and I think a "must" to give the flavor around the destinations you're seeing (and to help negotiate in the souks). Mine – Moustafa – was phenomenal. Reach out and I'll give you his information.
While many travelers will never make to Africa, Marrakech is only a three-hour direct flight from Paris and London – and less from Spain – so it's a relatively easy gateway to this extraordinary continent.
Who says a bucket-list item only needs to be done once? I will definitely go back to this magical city and look forward to hearing your experiences in Morocco as well.