8 Iconic Film + TV Properties
If you're anything like me, you're drawn to movies and TV shows with a strong sense of "place." As far as I'm concerned, the more exotic the castle and the grander the house the better. That's why in this week's Bungalux I decided to explore the extraordinary real-life locations for some of my recent favorite shows and movies.
Join writer Laini Chang and I as we dive into some of the world's most stunning castles, country homes, and architecturally significant buildings in locations as far-flung as Greece, Romania, and Sicily. From Wednesday to Bridgerton to Severance (and many more!), we discover the stunning locations that serve as backdrops for our favorite entertainment.
Ready. Set. Action!
1.
Wednesday: Nevermore Academy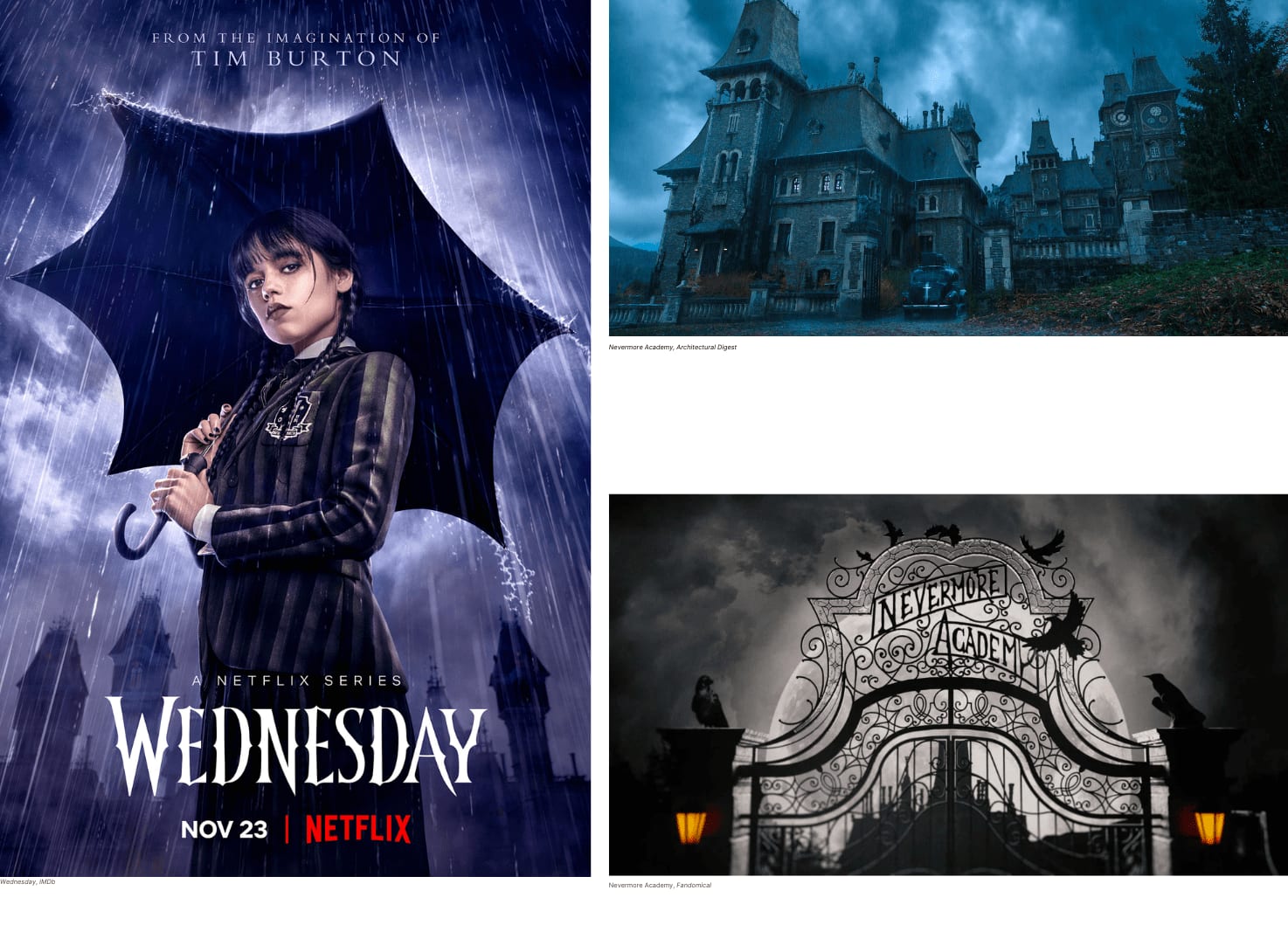 Show description: "Smart, sarcastic and a little dead inside, Wednesday Addams investigates a murder spree while making new friends — and foes — at Nevermore Academy." (Netflix)
Real location: Cantacuzino Castle in Bușteni, Romania
History: Built in 1911 by architect Grigore Cerchez in the neo-Romanian style, the castle served as the summer house of Prince Grigore Cantacuzino and his family. It was bought by Kurt Neuschitzer, a German lawyer and property developer, in 2008. It has been open to the public since 2010.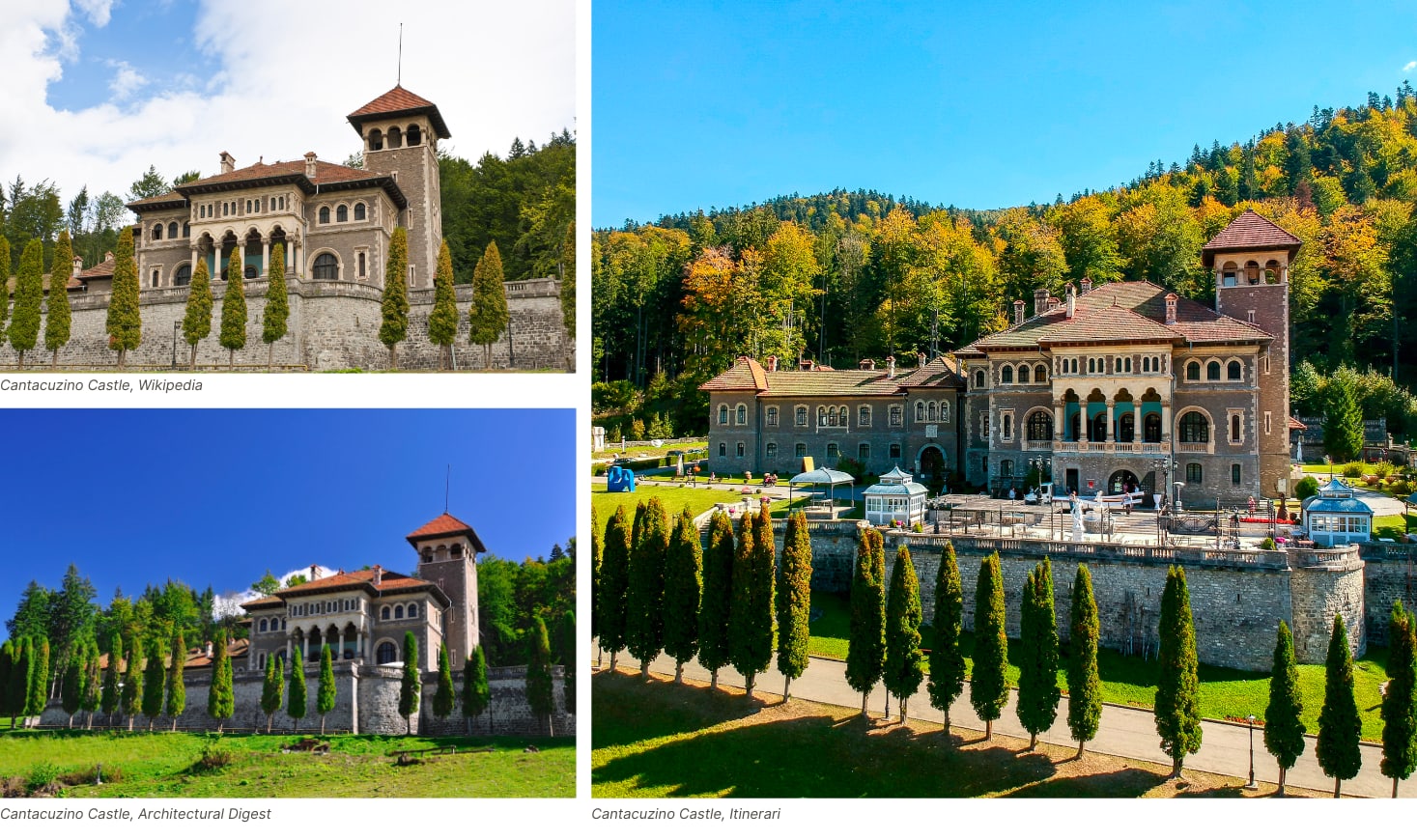 --
2.
Glass Onion: The Glass Onion Island
Movie description: "World-famous detective Benoit Blanc heads to Greece to peel back the layers of a mystery surrounding a tech billionaire and his eclectic crew of friends." (Netflix)
Real location: Amanzoe Resort in the Peloponnese, Greece
History: Aman Resorts was founded by Adrian Zecha in 1988 and now has 34 hotels, resorts and residence developments in 20 countries. The Amanzoe Resort opened in August 2012 and its development cost came in at almost 100 million Euros.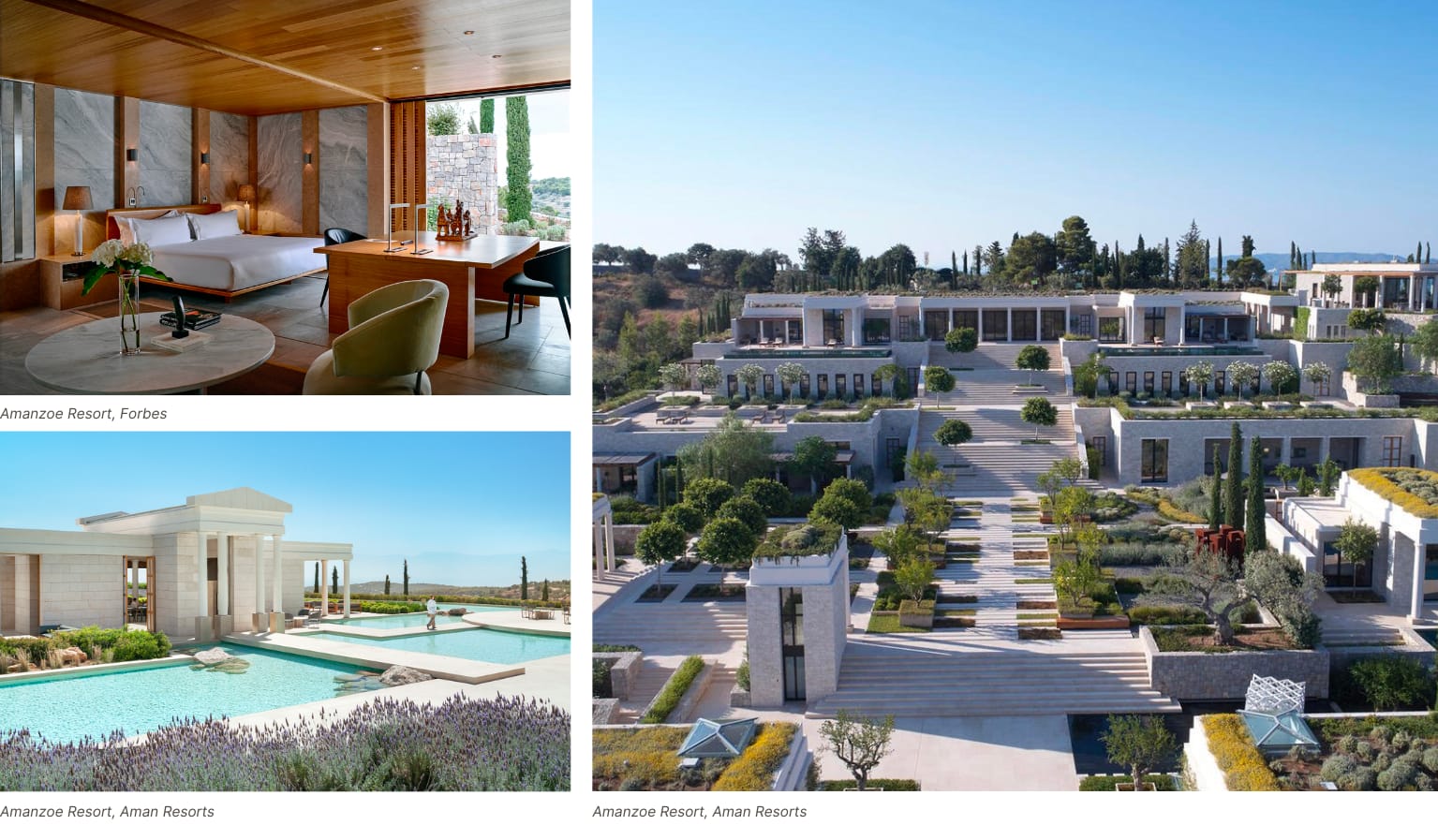 --
3.
The White Lotus: The White Lotus Resort
Show description: "The White Lotus Season 2 follows the guests and the employees of the White Lotus resort as they deal with messy relationships during what is supposed to be a luxurious and relaxing island getaway." (Sssamiti)
Real location: San Domenico Palace in Taormina, Italy
History: In the 1430s, owner Damiano Rosso left the property to the Dominican religious order in his will so it could be turned into a convent. The building later came into the ownership of Prince Cerami, who transformed it into a hotel in 1896. His family later sold it to a hotel management company called SGAS. The hotel was used as a headquarters by the German army during WWII and was bombed by the Allies.
--
4.
Bridgerton: The Bridgerton Family Home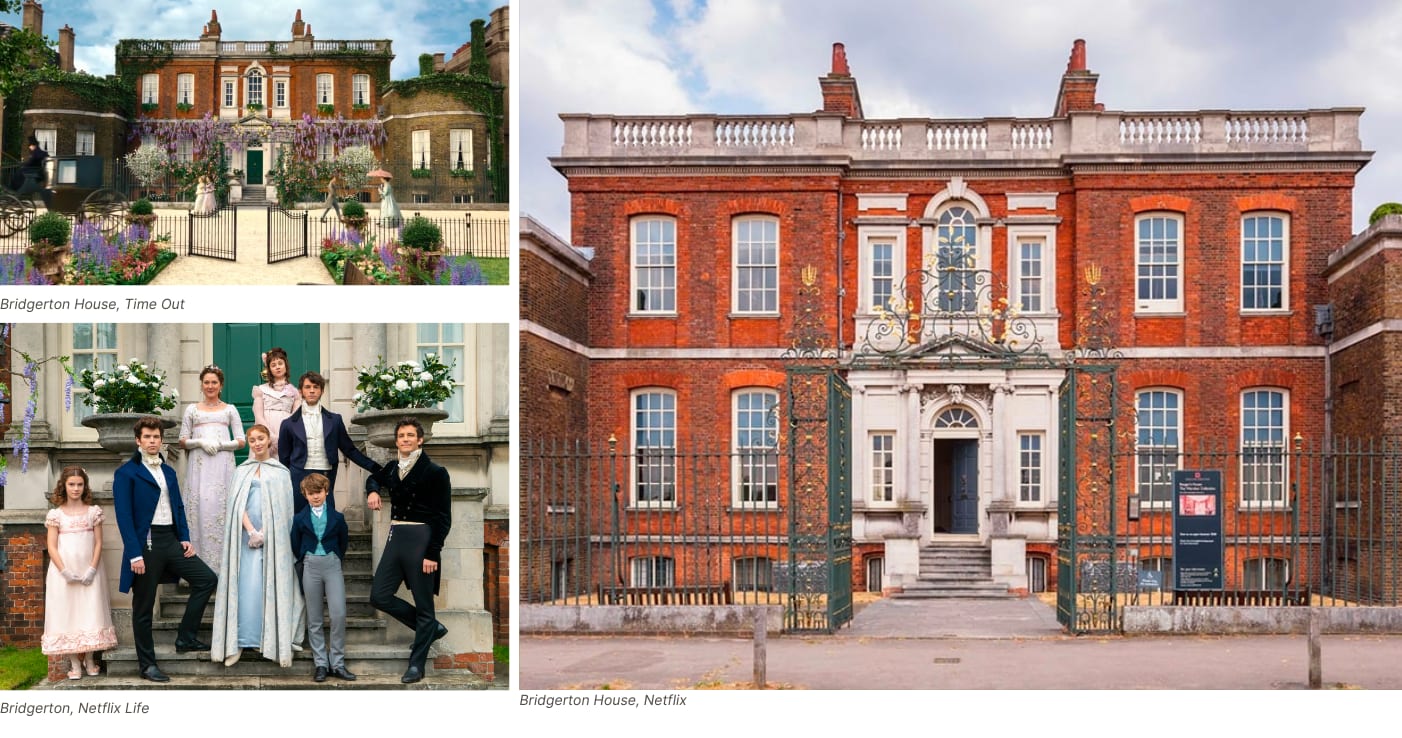 Show description: The eight close-knit siblings of the Bridgerton family look for love and happiness in London high society. Inspired by Julia Quinn's bestselling novels." (Netflix)
Real location: Ranger's House in London, England
History: This Georgian villa is an art museum that houses over 700 pieces of Renaissance Art. It was owned by naval officer Francis Hosier in the 1720s and was later home to the 4th Earl of Chesterfield, before becoming the residence of the Ranger of Greenwich Park. Ranger's House is now a museum known for its world-class art collection that was amassed by Sir Julius Wernher around 1900.
--
5.
Enola Holmes: Ferndell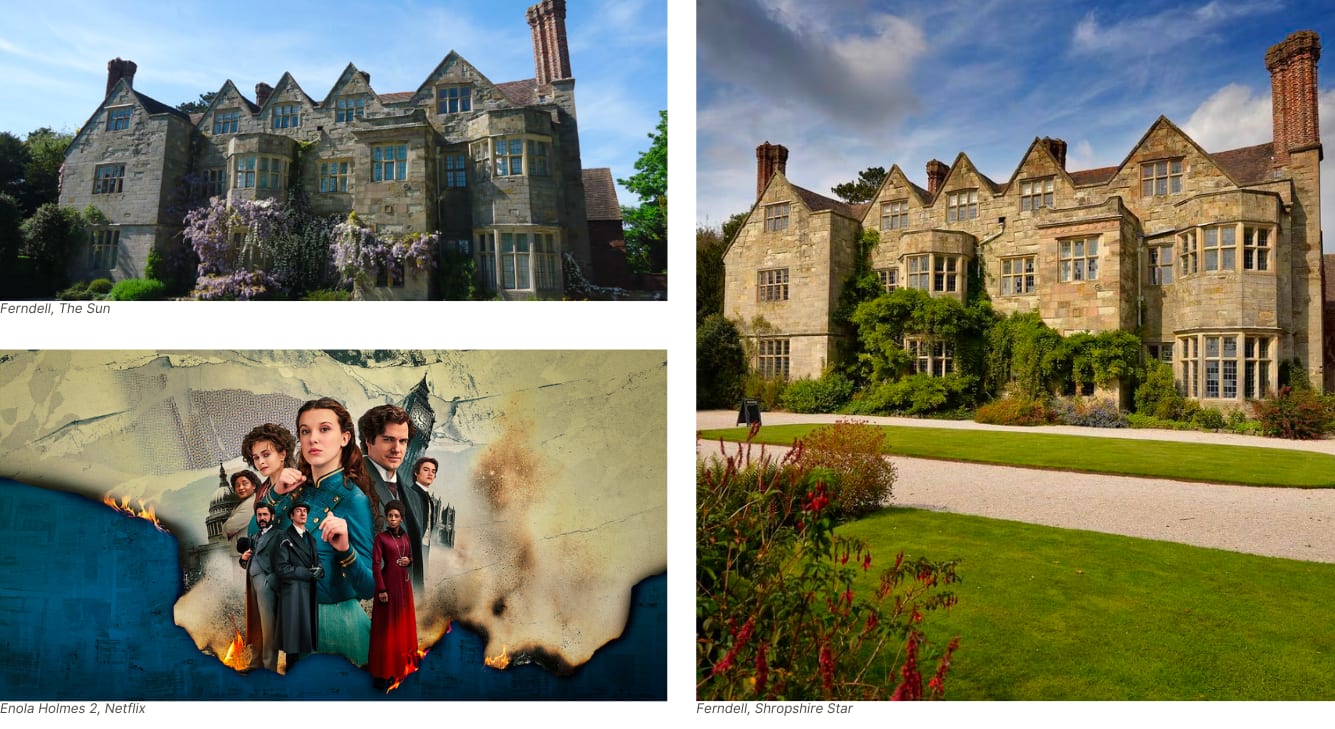 Show description: "While searching for her missing mother, intrepid teen Enola Holmes uses her sleuthing skills to outsmart big brother Sherlock and help a runaway lord." (Netflix)
Real location: Benthall Hall in Broseley, Shropshire, England
History: Built in the late 16th century for the Benthall family, Benthall Hall features an Elizabethan exterior with some Jacobean and Caroline details inside. The family's Catholic sympathies led them to incorporate several secret places for priests in the manor. It was passed on to National Trust in 1958, but the Benthalls still occupy it. The building is open to the public most days of the week.
--
6.
Severance: Lumon Industries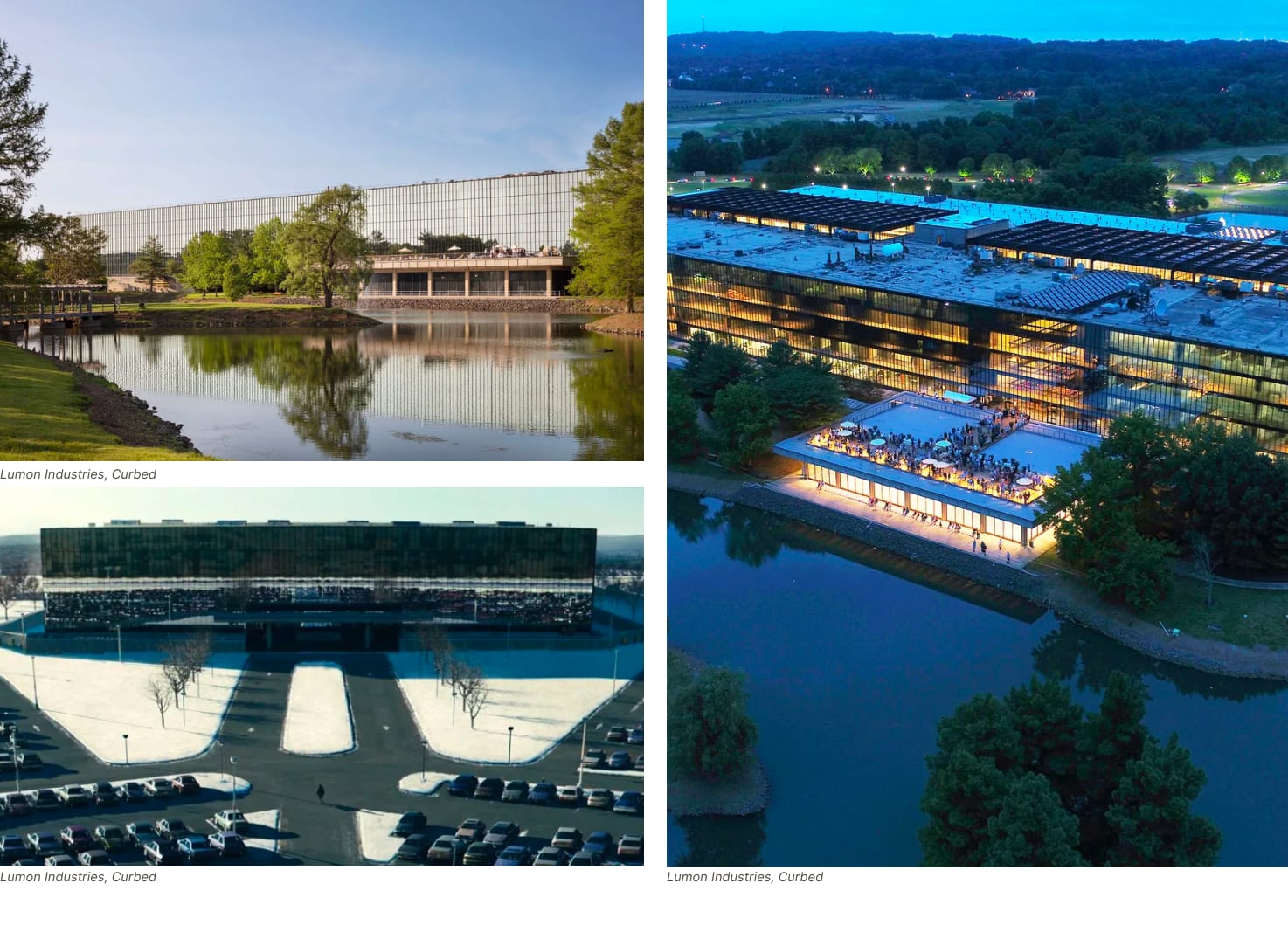 Show description: "Mark leads a team of office workers whose memories have been surgically divided between their work and personal lives." (Apple TV)
Real location: Bell Works in Holmdel, New Jersey
History: Originally called Bell Labs, the two-million-square foot building was designed by Eero Saarinen. It opened in 1962 as a research and development complex for AT&T, where its researchers won nine Nobel Prizes. In 2013, it was purchased by Somerset Development Corp for $27 million and made into a mixed-use building. It was rechristened as Bell Works and it welcomed new tenants in 2016.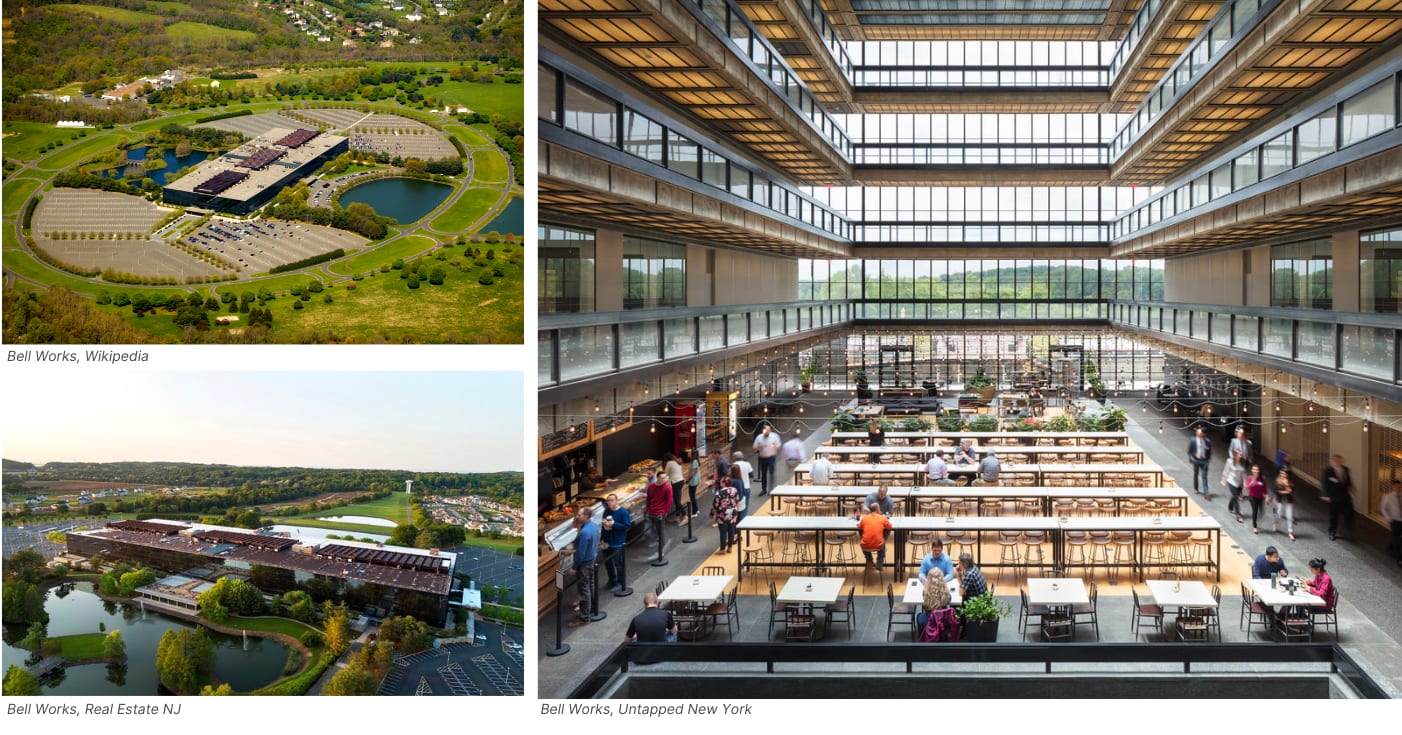 --
7.
Dynasty: The Carrington Manor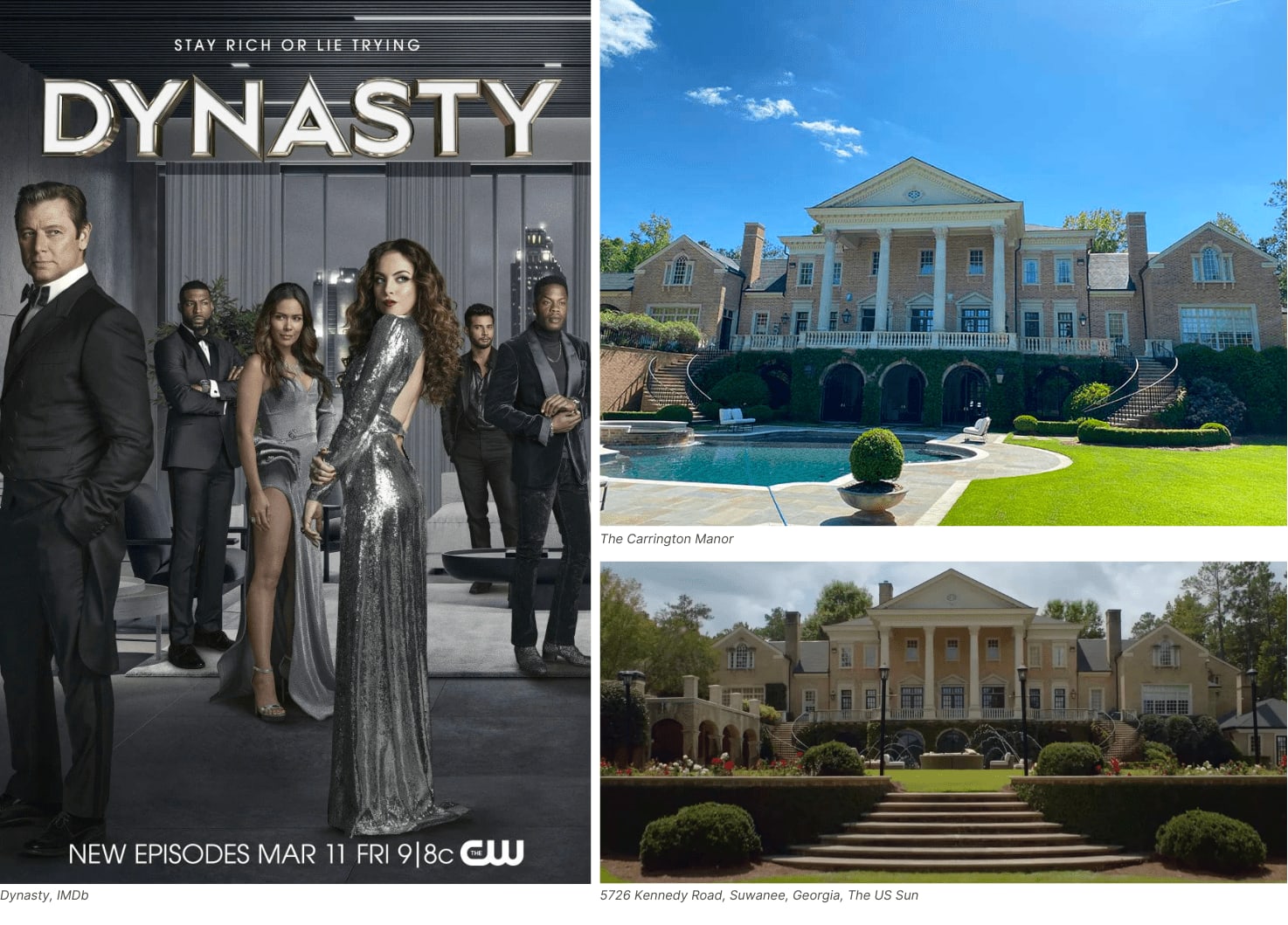 Show description: "In high-society Atlanta, staying rich means playing dirty for two affluent families caught in an outrageous feud for power, prestige and love." (Netflix)
Real location: 5726 Kennedy Road, Suwanee, Georgia
History: Only the exterior shots of the house were shot at the actual location, as most interior shots were taken at Eagle Rock Studios. 5726 Kennedy Road is private property, and the name of its owner has been kept under wraps. However, the property covers approximately 17,776 square feet, has beautiful gardens, and an infinity pool.
--
8.
House of the Dragon: Seat of House Targaryen
Show description: "Based on George R.R. Martin's book Fire & Blood, the series House of the Dragon takes place 200 years before the events of Game of Thrones and tells the story of House Targaryen." (HBM Max)
Real location: Castillo de la Calahorra in La Calahorra, Spain
History: Castillo de la Calahorra, or the Calahorra Castle, was built between 1509 and 1512 and was one of the first Italian Renaissance castles to be built outside of Italy. It was declared a Bien de Interés Cultural, or "Cultural Interest Asset" monument in 1922.
--
AB + LC