Mountain, beach, or desert? That is the question.
Well, I admit that at this time of year – snow and ski season – I'm all about the mountains. I Google things like, "How much money does it take to retire in Aspen" (Hint: a lot) and I scroll through Instagram photos searching for snow pics. Instagram knows it, and my feed is full of ski videos and exotic wintry destinations across the globe.
So this week I decided to pick out Eight Lustworthy Ski Chalets. A few interesting things happened when I started looking.
First, I couldn't believe how many houses were under contract. Markets for vacation homes are usually the first markets to slide when a potential housing correction is on the horizon, but if luxury spots like Aspen, Telluride, Vail, and Whitefish Mountain and Yellowstone Club (Montana) are any indication, the housing market is doing just fine. Inventory was really low, and quite a few of the trophy properties were already in escrow.
Secondly, I discovered that a lot of the properties needed their fair share of updating. My guess is that the heat in those markets isn't just the underground driveway heaters, it's the fact that renovated, turn-key houses are selling for the big prices (we're seeing the same thing in LA).
I traversed the globe and picked a few of my favorite ski chalets. I tried to pick all different price ranges and locations – from a fixer condo in Big Bear all the way up to one of the only five ski-in ski-out spots on Ajax Mountain in Aspen.
Now let's hit the slopes.
1.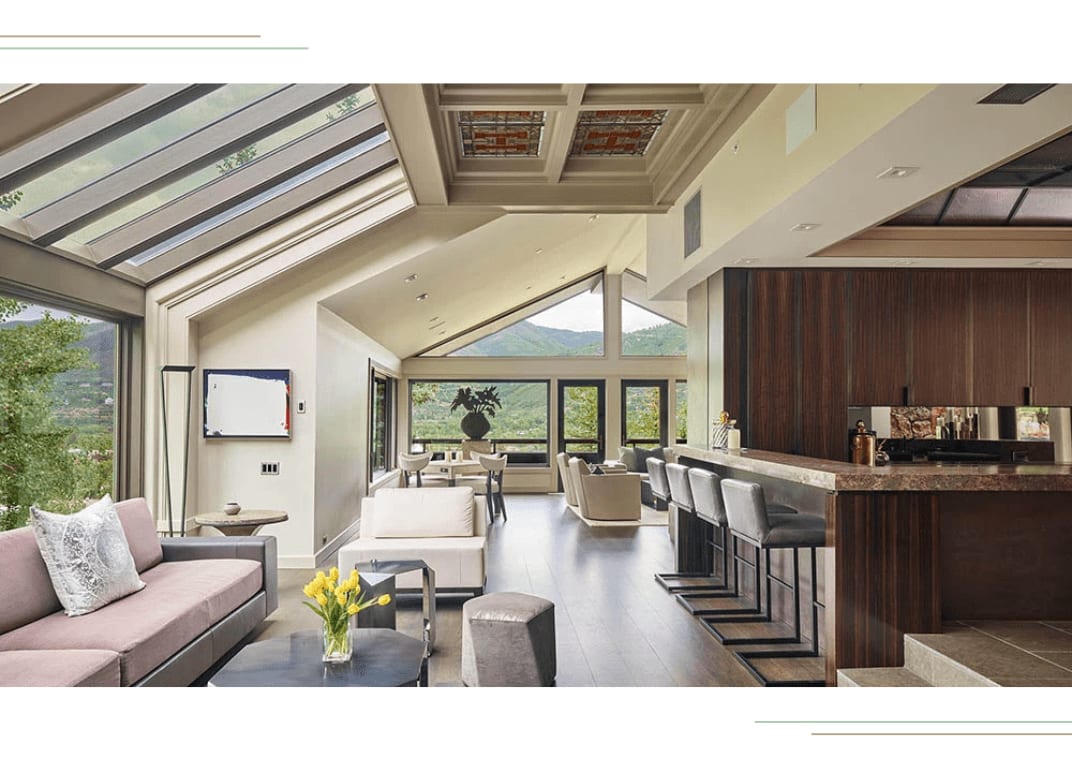 Location:

Aspen, Colorado

Price: $100,000,000

What makes it a Bungalux: I had no idea that there even were any ski-in-ski-out single-family homes on Ajax Mountain in Aspen. Apparently, there are. Five. Sometimes listings falsely boast a "once-in-a-generation opportunity" but it seems like this one truly really is.

--
2.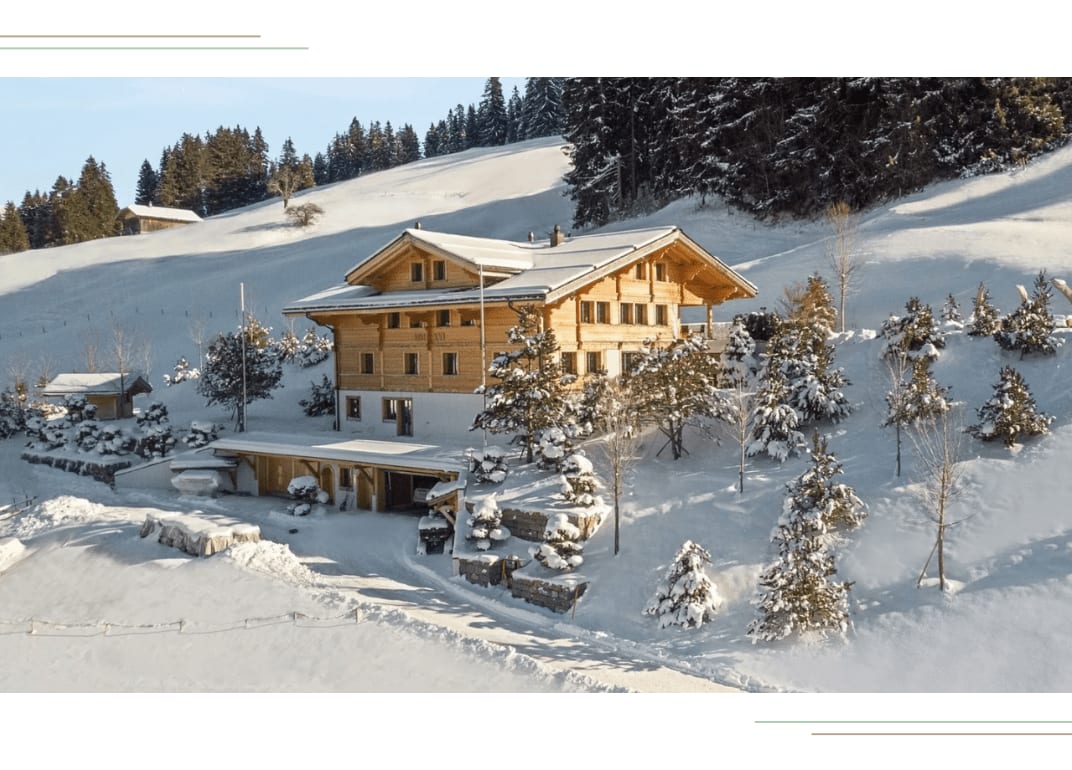 Location: Gstaad, Switzerland

Price: Upon Request

What makes it a Bungalux: Gstaad really lives up to its mystique. While not the easiest place to get to, that's part of its charm and exclusivity. Miles and miles of trails (ungroomed and not), long boozy lunches, fondue apres-skis ... it's all there. And this pool looks perfect for a dip in between skiing and drinks at The Palace.

--
3.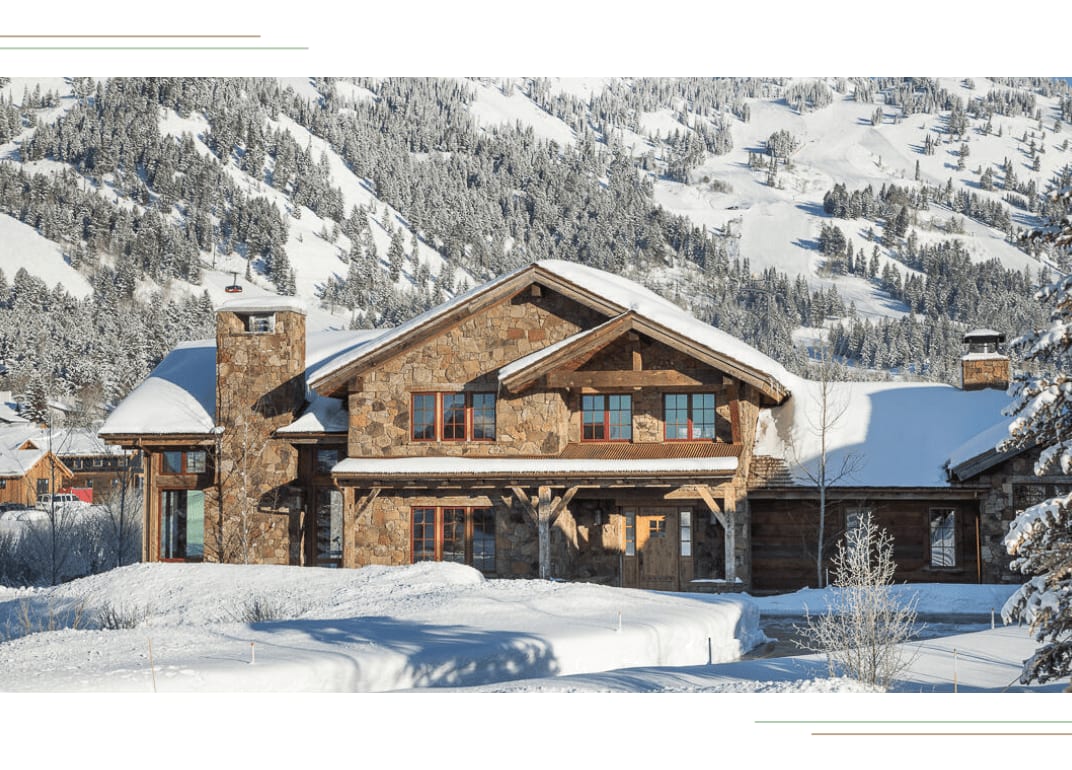 Location: Teton, Wyoming

Price: $23,000,000

What makes it a Bungalux: Geez, this is the exact type of photo that gets me in trouble on Instagram. A powdery bluebird day with a stone and log cabin set against a phenomenal ski mountain. I'll admit this house was the house that inspired this whole darn post.
4. Location: Beaver Creek, Colorado
Price: $22,900,000
What makes it a Bungalux: When I was younger we used to go to Beaver Creek skiing with another family every Christmas. We used to take a shuttle from our condo and pass all the beautiful ski chalets that dotted the valley. I already had mine decorated in my head, not knowing they would be going for $23 million by the time I grew up!
--
5. Location: Andermatt, Switzerland
Price: Varies (units available around $3,000,000)
What makes it a Bungalux: I decided to include the penthouses in a luxury hotel option because after a long day of skiing you may want to be pampered a bit. Nothing wrong with that.
--
6. Location: Whitefish, Montana
Price: $2,749,000
What makes it a Bungalux: Whitefish is the most charming little town (subject of a future Bungalux) and this ski-in-ski-out treehouse chalet sits in a choice spot on Whitefish Mountain and is definitely unlike anything you've seen (in a good way).
--
7.

Location:

Mammoth Lakes, California
Price: $779,000
What makes it a Bungalux: I have been super into A-frames lately, and I seriously love this one. It's so cozy and an ideal cocoon-like respite from all the snow Mammoth has been having this year. Update it or live in it as is. By the way, Mammoth Mountain is one of the best ski hills anywhere in the country (just ask Olympic phenom Chloe Kim who grew up skiing there) and already has 381 inches of snow, making it skiable through a lot of summer.
--
8. Location: Big Bear Lake, California
Price: $360,000
What makes it a Bungalux: Is it just me, or with a little makeover could this one be a great ski (and lake!) condo just a few hour drive from Los Angeles? The condo has great bones and a good location.
--
AB