Zellige Tiles
If you're anything like me, you've been strolling through houses and scrolling around Instagram and seeing a stunning tile trend that you can't really put your fingers on.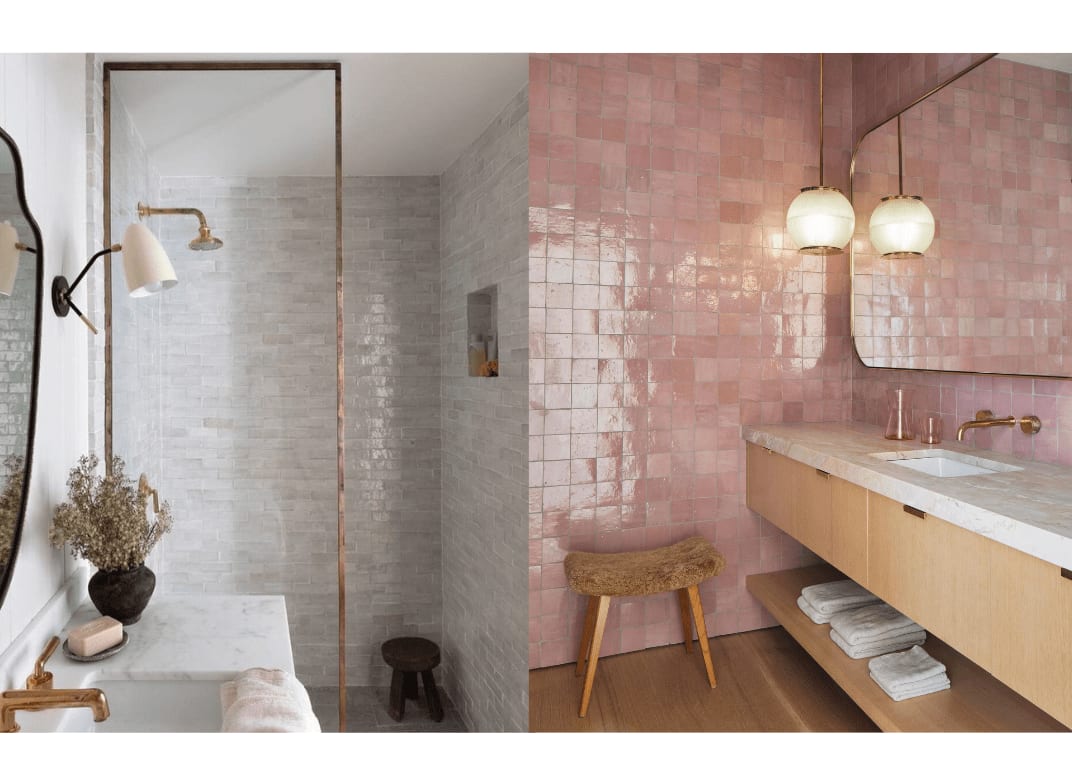 Left: Design by Amber Interiors Photo by Jess Isaac Right: Design by Brigette Romanek. Photo by Architectural Digest.
The tile kind of looks like subway tiles, but not. It's uneven and glossy, with very little grout showing. The hue varies slightly, creating an almost ombre effect once it's clumped with other tiles. It comes in bright colors, like pink and turquoise, but also in more muted shades like sea salt. The tile is used in showers and on walls, for kitchen backsplash and even the floor around a pool.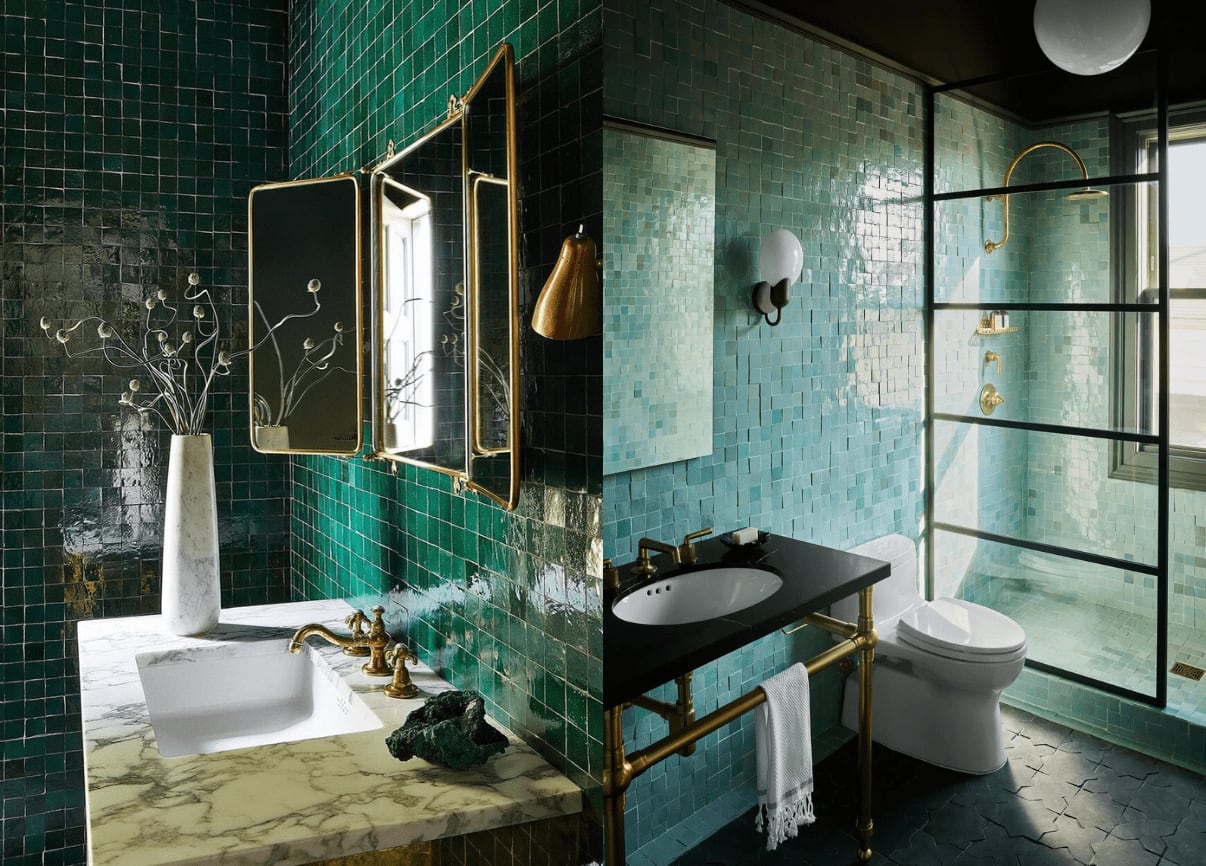 Left: Design by Clements Design and Waldos Designs | Styling by Amy Chin | Photo by William Abranowic Right: Nicole Hollis's own San Francisco bathroom. Tile by Clé. Photo credit Douglas Friedman.
I did a deep dive and discovered the object of my lust was something called the zellige tile. While the trend seemed to start in earnest pre-Covid, it seems to be hitting fever pitch with some of the hottest designers – think Alexander Design, Mandy Cheng, Tommy Clements, Nicole Hollis, and Brigette Romanek – employing it to create awe-inspiring, dramatic rooms.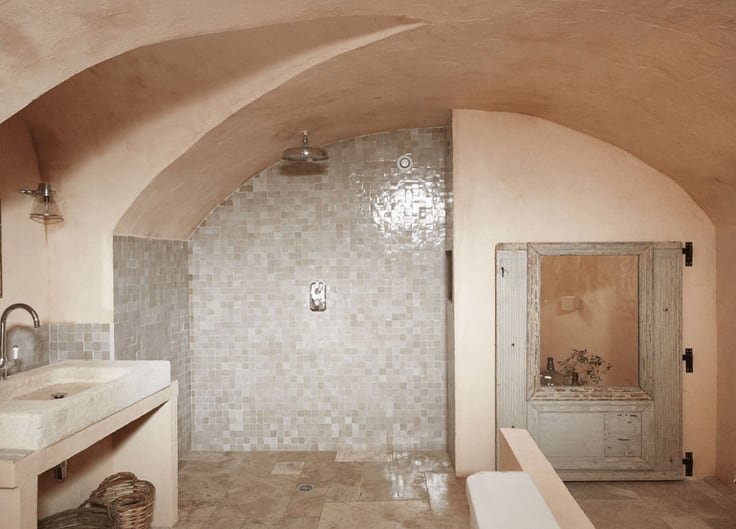 "Moroccan Zellige tiles, sourced from Marseille," in La Vie en Rose: A 12th-Century Poet's Villa in St.-Paul de Vance, Restored for Modern Living. Photograph by Helen Cathcart.
When I initially thought zellige had a bit of a subway tile in its genes, I wasn't entirely wrong. After all, both are ceramic tiles which have been fired and glazed. But that's sort of where the comparison ends. Unlike subway tile, which was created in 1904 for the New York subway, zellige hails from 10th century Morocco. The zellige tile is still crafted in Morocco by artisans, called maâlems, who specialize in these extraordinary pieces of art. Natural clay is mixed with water, hand-shaped, dried, and then kiln-fired, often using olive pits. Enamel glazing is then applied by hand.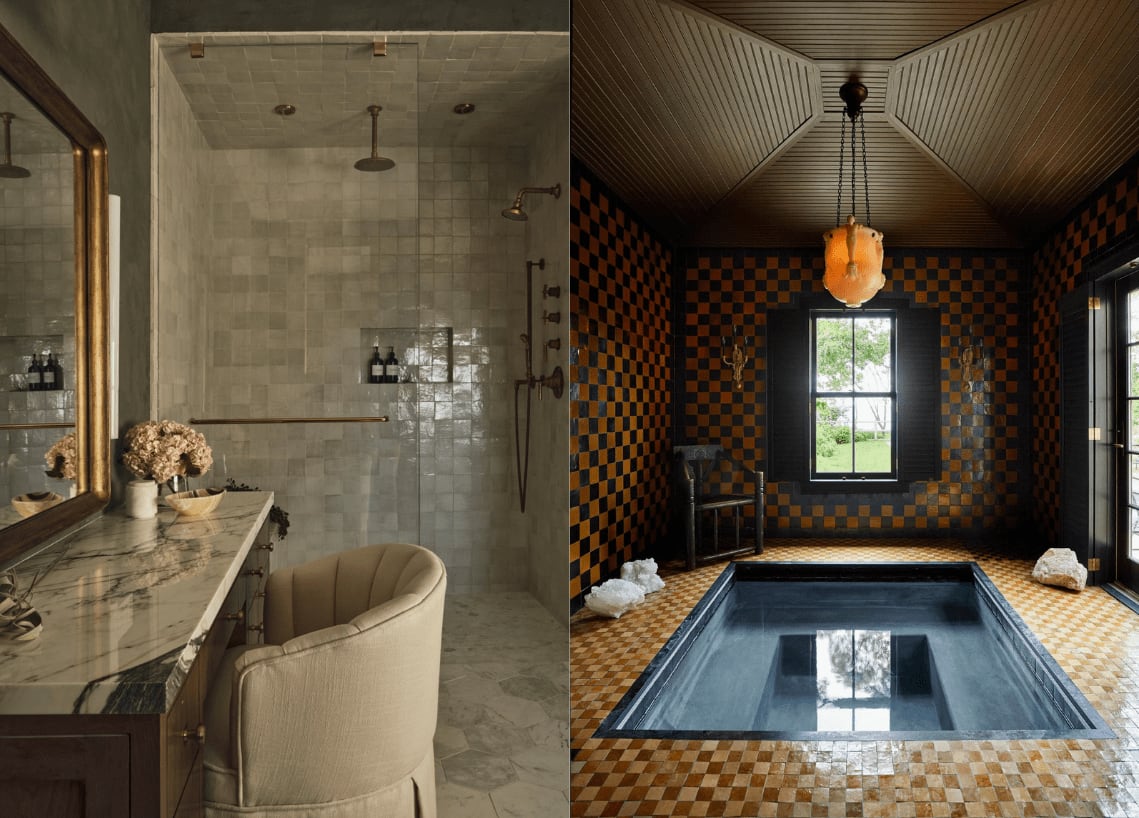 Left: Pacific Palisades bathroom by designer Mandy Cheng. Photo credit Madeline Tolle. Right: A Long Island poolhouse spa outfitted with Moroccan zellige tiles by Clé. Designed by Hadley Wiggins, photo by Architectural Digest.
Incidentally, the art of making zellige is passed from generation to generation in Morocco and is becoming a lost art, as fewer and fewer craftsmen are churning out the extraordinary tiles.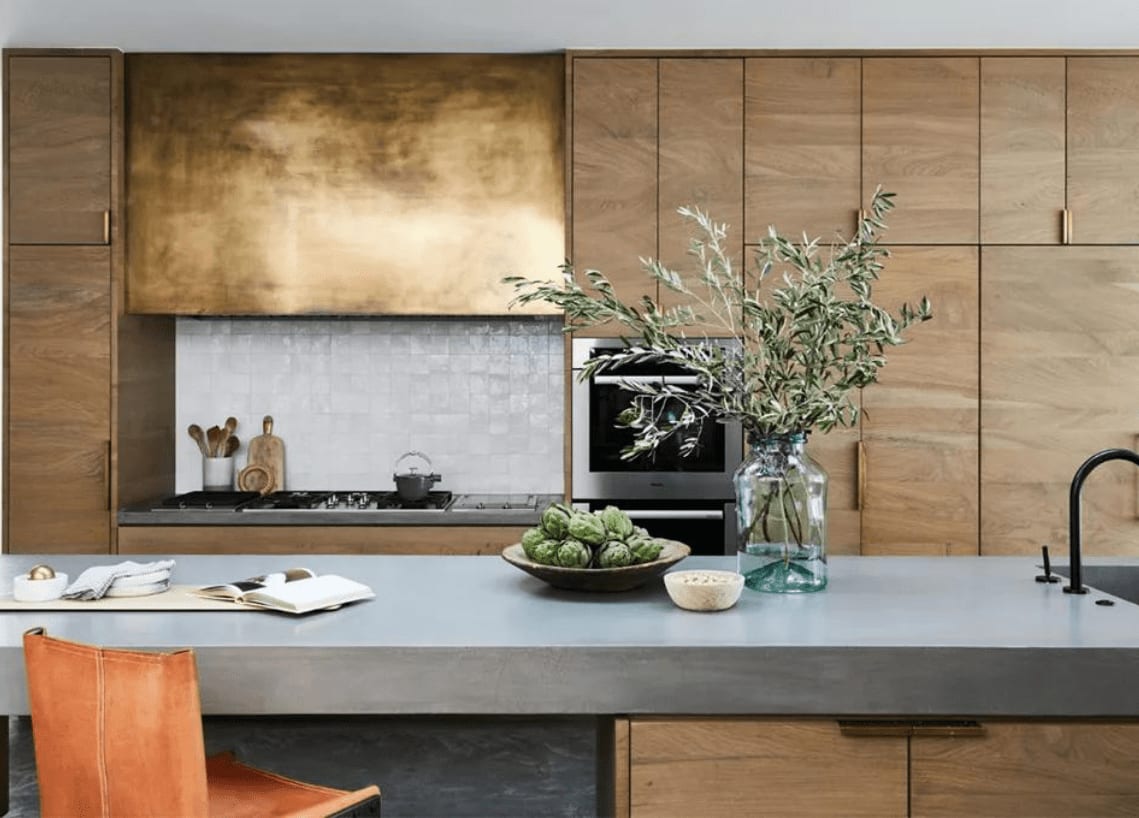 A kitchen in Burlingame designed by Alexander Design.
Cle Tile offers a great zellige line and seems to be a go-to for the sport. Check them out if a bathroom or kitchen remodel is on your New Year's Resolution list!
Warning: I would not recommend DIY-ing zellige. Installation is definitely best left to the pros.
--
Alex B.